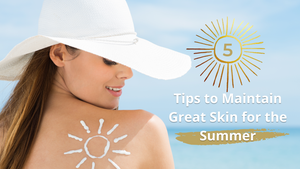 5 tips to Maintain Great Skin for the Summer
If you want Great, Glowing, Healthy, Ageless skin for the summer, then less is best. Instead of applying heavy or thick creams or foundations, switch to barely there make-up and feather-light skin care creams.  Let your skin breath this summer with the right skin care products!
Always apply sunscreen: The most important foundational product is your sunscreen because the sun's rays accelerate aging. Make this a routine and your skin will thank you for it. 


Hydrate, Hydrate, Hydrate: Hydration is key during the hot summer months. Water aids in digestion, circulation, absorption and even rids the body and skin of toxins. Many people often report that by increasing their water intake, their skin has a more radiant glow.


Moisturize your skin: To help keep skin from looking and feeling dry from the summer, heat, salt water and AC, moisturize the skin with light weight oils and moisturizers. Feel free to apply as many times throughout the day - especially ones with vitamin C and E and those packed with antioxidants, which protect and repair the skin.


What you eat matters: Fueling your body with the right kinds of food has a huge impact on the health of your skin. Too much sugar creates inflammation in the body, creating bloating and puffiness and accelerates the aging process. Try eating ani-inflammatory foods on a regular basis.


Exfoliate regularly: This is an important step to having glowing skin. It removes pore-clogging impurities and dead skin from the skin also preventing future breakouts.
---