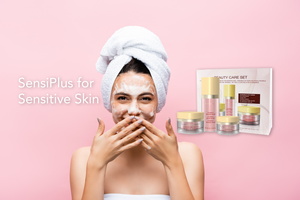 What causes sensitive skin and 5 things to avoid!
Sensitive skin is a common issue. Environmental factors and stress burden our skin every day. When the physiological balance of the skin is disturbed it no longer performs its natural protective functions - leaving your skin more prone to inflammation. 
The cause of inflammation is different for everyone.  Some may have reactions to chemicals, dyes, and fragrances present in products that come into contact with their skin.
Sensitive skin may also be a symptom of an underlying condition. Consult your doctor if this is the case. Avoid aggressive cleaning products that dry out the epidermis and cause the so-called trans-epidermal 'water loss'  effect. Harsh exfoliants, products with alcohol and chemical sunscreens, can dehydrate and weaken its protective barrier function leading to redness, irritation, and hyperkeratosis.
Possible Triggers for Sensitive Skin
Alcohol
Some alcohols are safe, but many aren't. Volatile alcohol can damage the skin's barrier. Fatty alcohols, derived from coconut or palm oil, help draw in and hold moisture, but simple alcohols drying and damage most skin types.
Parabens
It's nice to see that many brands have gone "Paraben Free." Parabens can lead to irritation in sensitive skin types, which is why it's best to avoid them. 
Fragrances
Opt for fragrance free products. Everyone's sensitive is different, but fragrances can effect biological terrain of the body.
Chemical Sunscreens
Some chemical sunscreens cause the pores on our skin to become clogged. Skin can not breath with clogged pores and can breakout with acne and other types of congestion. And just like fragrances, some of the chemicals in sunscreen effect the hormones, and are labeled as 'endocrine disrupting chemicals'.
Harsh Exfoliants
Scrubs made with salt, sugar or beads, may be too tough on the skin and cause extreme and permanent damage to the skin, resulting in micro-tears and acne. 
Find relief with sensitive skin care products like Etre Belle's SensiPlus skincare line and improve your quality of life.
Due to these problems, Être Belle has developed the innovative range  'SensiPlus'  - which is an optimal care solution for irritated, sensitive or allergic skin types. SensiPlus products do not contain preservatives, mineral oils and dyes to eliminate the risk of allergies.
Être Belle's active ingredients soothe any irritation and restore the skin's natural balance while promoting natural protective function.
SensiPlus highlights:
Mantles the skin with hydro-silk molecules.
New generation ingredients in combination with plant extracts improve the skin barrier functions and increase moisture content.
Active substances support regeneration and increase skin desensitization.
SensiPlus product range does not contain preservatives, mineral oils, and colourants.
The best way to sample SensiPlus products is by enjoying the following:
SensiPlus 3 Step Face Care Set                    SensiPlus Gift Set
---