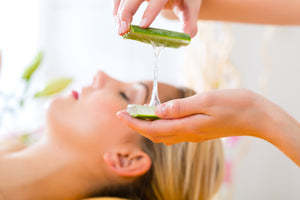 Revive your skin with Aloe Vera
Aloe vera is touted for its skin healing properties. The vitamin-rich plant has been used in many different cultures throughout history for its ability to soothe and moisturize the skin.
Aloe vera is super light and easily absorbed by the skin, which helps to lock in moisture. It's great for all skin types because it doesn't add oil or clog pores. The plant also has calming properties —vitamins, minerals and peptides, that can accelerate wound healing naturally.  
Aloe is rich in vitamins A, C,D and E, amino acids, polysaccharides, and phytosterols, and it also has minerals, like zinc, potassium, and magnesium.
One of the active ingredients in aloe vera gel is salicylic acid, which is used to treat acne. It helps to rev up cell turnover, reducing pore-clogging. Plus, the calming properties can help reduce inflammation associated with active, painful zits. Aloe vera contains proteolytic enzymes which repair dead skin cells, hydrates and strengthens the skin as well.
The many benefits of Aloe vera may include:
Hydration: It contains 98% water, which helps moisturize, soothe, and hydrate the skin
Elasticity: It helps to make the skin supple, rather than stiff and leathery
Anti-Aging: It supports the production and release of collagen and slows down the aging process of the skin
Sun Protection: It helps protect from the damaging effects of radiation therapy and has a cooling effect on rashes, sunburns and first-degree and second-degree burns.
Anti-fungal, Anti-bacterial and Anti-inflammatory: it helps aid in reducing pain, swelling, and soreness of wounds or injuries.
Wound Healing: It can speed up healing of wounds and limit scarring
Some people may experience an allergic reaction to topical aloe vera. Always do a patch test first to check for sensitivity before using it on the face. Experts generally consider it safe but always consult with your doctor if you have any questions. 
Obtain the gel directly from an aloe vera house plant or buy it pre-prepared. Aloe vera can come in powder, liquid, and gel form and can be found in products like creams, moisturizers, gels, and masks. Etre Belle has an Aloe Vera skincare line or have fun making your own recipe.
Shop our Aloe Vera Skincare Line
3 DIY Aloe vera Skincare recipes
---