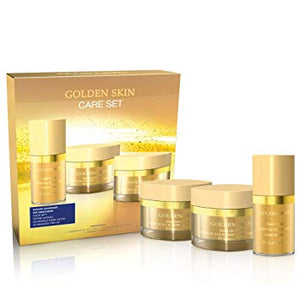 Golden Skin- luxurious skincare with 24 karat gold and caviar
Gold is one of the oldest metals found and used by humans. It's attracting and luxurious color catches everyone's eye and is loved for its heritage in nature. For more than 6000 years gold has been used for jewelry due to its appealing looks and rareness. Gold was also looked upon as a strong and heating stone in many culture, it was used in many rituals all around the world. Nowadays, gold is used in various food as well as medicine.
Why is gold in Cosmetic products?
Even back in the antic times, gold was used as a form of coolant as well as a protectant against infections and bacterial buildup on skin. Gold is easily absorbed into the skin and give a light glowy complexion. Gold is also used in our skin products because it is able to bind 300 times its own weight to moisture.
Caviar
Caviar works wonders on skin due to it's high amounts of proteins, lipids and lecithin. It also includes magnesium, phosphor, copper and zinc. These minerals strengthen the skin which slows down the aging process and supports the repair system of the skin to ensure for a beautiful complexion.
Our lifting serum works as soon as it touches your skin. It smoothes and vitalitises your skin with the help of the caviar extract that strengthens the regeneration of your skin. Apply on cleansed skin 2-3 times a week and proceed with Golden Skin Caviar Day Cream.
Golden Skin Roll-On- Caviar Eye-Gel;
This regenerating caviar eye roll on gel is perfect for everyday use by providing strengthening and cooling care for your dark undereyes or dark circles. This Eye roll-on gel will help you to achieve a firmer eyelid as well as your under eyes.
---