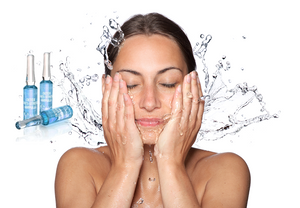 Banish Dry Skin this Winter
You know that Woman, who has the best looking skin. It glows - even in the dead-of-winter - it stays soft and hydrated.
Creating a routine that focuses on hydration is one way to achieve the perfect skin no matter what the season. But why not give your skin-care an extra boost with Etre Belle's Ampoules Collection.
If you want faster results in less time, then these little power packs create visible and noticeable effects. Ampoules contain a high concentration of active ingredients targeted to treat specific concerns including brightening, dullness, discoloration, dryness and hyperpigmentation. Whether you're looking to correct dark spots, repair dry skin or treat acne, an ampoule program could help you see results.
Ampoules are more highly concentrated than serums, so they can be a potent treatment to target concerns such as dark spots and discoloration, uneven skin tone and uneven skin texture.
Etre Belle distributor Angelika Gross said to  get the best results, it is important to try to use products within the same skincare line.
"Results can really be seen when you pair our Ampoules with each other or our face cleansers, face creams, masks and tonics," she said. "The concentrated and unique formulations within each product work synergistically with each other."
These mighty Ampoules are gentle enough to use for weekly treatments for a limited number of days. Ampoules are typically added into a skincare routine when you need to see more amplified results such as after a period of high stress, following sun damage or as your skincare needs change seasonally. Ampoules address your unique skin concerns and help reveal your healthiest-looking skin. 
---