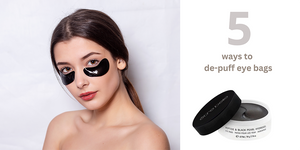 Are puffy eyes getting you down? Learn what you can do to depuff.
Even after getting that coveted eight hours of sleep, do you still find yourself awakening to dark-under eye circles and puffiness? Puffy eyes can be caused by a variety of reasons, such as lack of sleep, allergies, and aging. Learn some simple ways on what can be done to smooth and de-puff eye bags for good.
What causes Under Eye Bags?
As we age, under-eye bags appear due to the loss of natural volume under the eyes, resulting in puffy eye pockets. Below the skin surface, there are layers consisting of muscle, connective tissue, ligaments, and fat that all contribute to the changes we see externally. The volume reduction is caused by decreased collagen and elastin production, which helps keep skin firm and smooth. The reduction of collagen and elastin levels can begin as early as age 25. Experts also cite lack of sleep, genetics, hormones, dehydration, lifestyle, eczema, or allergic reactions as other causes.
There are many non-surgical approaches that can provide long-lasting and extremely effective options for those who are not ready for surgery. Let's take a look at Five simple solutions to help combat those pesky puffy eyes.
Lifestyle Check:
Adopting a healthy lifestyle includes, hydration, restful sleep, improved diet, exercise and mindset. Do you get enough rest? Restful sleep helps the body to regenerate. What kind of foods do you eat? Salty foods are common culprits of water retention and can affect the appearance of the under eye. Drinking alcohol can dehydrate your body, weakening elasticity under the eyes. How do you manage stress? Stress levels affect cortisol levels, which can increase the appearance and intensity of puffiness and bags under the eyes.
Use Retinol
Preventative care is the best remedy. Hyperpigmentation and vascular congestion cause eye bags that can be improved by skin-care products. Skin-care products like retinol works to exfoliate the skin, promoting cell turnover to reveal healthy new skin cells. It also inhibits melanin and encourages collagen production to soften dark under-eye circles and improve fine lines and wrinkles.
Take your Vitamin C
Vitamin C stimulates collagen production which tightens your under-eye skin and reduces any puffiness caused by loss of collagen. Vitamin C's anti-inflammatory properties also help reduce puffiness as well as redness, which can lead to shadows that cause dark circles under the eyes.
Gua Sha
Gua Sha is a traditional healing technique from China that helps release muscular tension and promote lymphatic drainage. While f facial gua sha is great for toning, sculpting, and plumping the entire face & neck, one of its true superpowers is the benefits we see when it comes to de-puffing the under-eye area. It increases the flow of blood and lymph under the eyes.
Hydrogel Eye Pads
Eye gel pads like Etre Belle's PEPTIDE & BLACK PEARL HYDROGEL EYE PADS are so simple to use and have become a favorite addition to skincare routines. Eye pads can re-hydrate dry under eye skin, reduce wrinkles, dark circles and puffiness.  They are designed to regenerate and tone tired and stressed skin.
What do Eye Pads do?
The main purpose of under eye pads is to moisturize the delicate skin under your eyes.  The skin around the eyes contain less amounts of sebaceous glands which makes skin in this area more prone to dryness.  This area of the eye is also much thinner and delicate and more prone to wrinkles.  Good moisturizing is extremely important for this area and eye pads are excellent addition to your regular skin care routine.
Etre Belle's Intensive eye care pads fight against the signs of tiredness and aging. The intensive eye care pads use pearl extracts, seaweed and peptide ingredients to combat the most common signs of aging, reduce puffiness and dark circles under the eyes. The Hydrogel Eye Pads provide the skin with optimal moisture and ensure a visibly rejuvenated and revitalized appearance.
How to use patches
·         Remove make up and wash your face with a cleanser
·         Apply toner
·         Apply patches for 15-20 min (or according to the instructions)
·         Remove patches and follow by serum/essence and/or eye cream
---