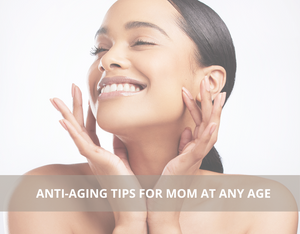 Anti-aging Tips for Moms at any Age
Starting a daily skin-care routine at any age will help to slow down the signs of aging. Confused on where to begin? Follow these guidelines to help maintain a youthful radiant complexion at any age.
20-30s 
The 20's is not too young to get proactive with your skincare routine to prevent premature aging. And even if you feel like you are playing catchup in your 30s when your skin starts to show sings of aging, you'll be thankful for creating these healthy lifetime habits:
Wear at least 30 SPF sunscreen everyday. It can help conserve your skin's collagen production.
Start using eye cream to prevent those fine wrinkles around the eyes.
Get in the habit of removing your makeup before bed. Leaving makeup on clogs pores and accelerates the aging process.
Find a good moisturizer.
40s
In your forties you may find your skin is less resilient. Due to hormonal changes, the skin is dryer and fine lines and wrinkles start to appear. A skincare routine for the morning and evening is important.
Introduce hyaluronic acid moisturizer to your daily skincare routine. It locks in moisture without adding oil.
Befriend retinol, a form of vitamin A, helps cells to regenerate.

 

Retinol reacts to sunlight, so we suggest using it at night while you sleep.
Don't forget the neck. By using neck cream it will help to maintain its texture.
Add a vitamin C serum to your morning routine. It has anti-aging and photo protective effects.
50s
In your 50s, your skincare routine may change up due to menopause. Your skin may all of sudden become oily, prone to acne or dry. So depending on the outcome adjust your skincare routine to target these new challenges.
If your skin has become extra sensitive, then find products that sooth the skin.
If your skin has become to oily, then find products that balance it out.
Continue with your regular am/pm routine of cleansing, making sure to use products with retinol, hyaluronic acid and sunscreen.
60s and beyond
Postmenopausal skin is no fun. Skin collagen content and skin thickness decreases more after menopause. It's just a matter of pampering your skin a little extra with the following add ons:
Hydrating serums
A weekly mask
Work with a good exfoliation cleanser to help stimulate the skin and get rid of dry skin.
Focus on neck and chest with moisturizer

 
Aging is inevitable. But by practicing great self-care you can age gracefully. In addition to your skincare routine, you can boost the effects by drinking plenty of water, exercising daily, eating healthy, distressing, getting plenty of rest and avoiding harsh skincare products. Time doesn't stop for anyone. So the earlier you start an anti-aging skincare routine, the younger you'll look as the years advance.
---